Areas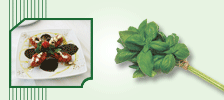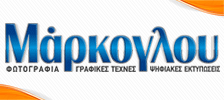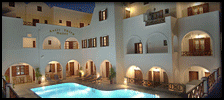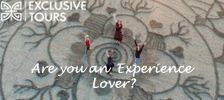 Food
Santorini is a small island which has created a unique reputation in taste and which is regarded by most visitors a delicatessen destination, where some of Greece's best restaurants, wineries and taverns can be found. As the rest Cycladic islands, the sea breeze and warm sun is enough to transform any culinary experience to a gastric paradise where the Greek traditional cuisine of the region is combined with different international influences. The tastes of the island have a slightly eastern spicy aroma.
The cuisine is generally based on agricultural products, grown in the volcanic soil, the cool of the sea and the Aegean sun which acquire an exclusive taste; which coupled with biological farming, consisting of first class materials for a healthy, original and flavorsome diet. Seafood can easily be found on the island and is usually brought by fishermen and cooked the same day at the taverns and seafront restaurants.
Countless eateries spread across the island can satisfy the most demanding pallets with local recipes as well as international cuisine plates, offering simultaneously the Greek hospitality and friendly approach of the people. For those who remain loyal to the family and closer tone of the taverna, well conserved tavernas with beautiful views are everywhere on the island, offering cooked and grilled foods, splashing some colour to your vacation.
You are advised to try flavours close to the culture of the island and traditional dishes such as tomatoballs, Santorini salad, pease pudding in every variation, white aubergines, stuffed rounded vegetable marrow, cooked capers, local cheese varieties, traditional sfougato, apohti, sausages, wild hare meat, bradada, melitinia and zafora oatcakes. Each dish can be accompanied by different varieties of wine produced on the island, such as dry white wines or sweet Vinsanto, which intensify the tastes, making it easy to comprehend the reason why Santorini has been promoted as such a gastronomy paradise where Greeks and tourists interested with different tastes have embraced the cuisine.
When on gustative excursions, it is possible to come across small tavernas where the chefs will offer you traditional fried white aubergines sprinkled with grated cheese, served with salad, local goat's cheese, a meal which will undoubtedly carve Santorini in your heart for ever.
Naturally if in a hurry you can try fast food establishments where you can eat crepes, sandwiches, souvlaki to relieve your hunger. If you are a vegetarian all you have to do is mention your dietary preferences to the waiter and he/she will in turn advice you what to eat or ask the kitchen to prepare something especially for you.