Cyclades Smoothies The Real Fruit Smoothies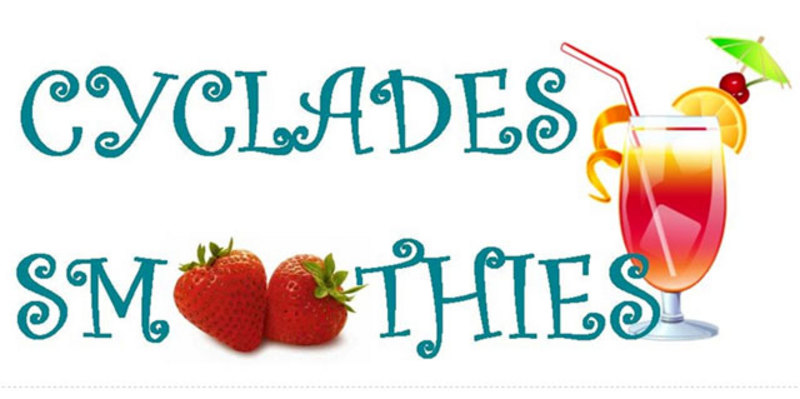 More Photos
Click to enlarge
Cyclades real fruit smoothies in Santorini
We blend your real fruit combination with juice to create a healthy and delicious smoothie. Our fruit has no added sugar, preservatives or artificial sweeteners.
You can taste our delicious smoothies at most cafe, bars, restaurants and hotel pool bars all around beautiful Santorini.
OUR SMOOTHIES
Hawaiian Fantasy
Peach, Strawberry & Banana
Delicious flavours with the smooth texture and taste that everyone loves.
Tropical Breeze
Melon, Mango & Strawberry
This combination gives a wonderfully light and refreshing taste that will mean you keep coming back for more.
Mexican Rush
Pear, Pineapple & Mango
The delicate flavour of pear combines beautifully with the mango and pineapple to give a truly memorable smoothie.
Jamaican Sensation
Pineapple, Blackberry, Blueberry & Banana
An intense fruit overload with the sweetness of the blueberry and pineapple complementing the taste of blackberry and the smoothness of the banana.
Mediterranean Delight
Blackcurrant, Strawberry & Apple
Dark and smooth, a combination that once tried will never be forgotten.
Caribbean Dream
Raspberry, Blueberry, Mango & Apple
The wonderful taste of the raspberry cuts through the beautifully sweet and evocative taste of the blueberry leaving a smoothie to savour.
MaX Pleasure
Baileys
Strawberry, Banana & Peach
Exotic Kiss
Peach Snaps
Melon, Mango & Strawberry
Extreme Rush
Malibu
Pineapple, Mango & Pear
Hawaiian Desire
Bacardi
Blueberry, Blackberry, Pineapple & Banana
Tropical Delight
Vodka
Blackcurrant, Strawberry & Apple
Wicked Kick
Brandy
Raspberry, Blueberry, Mango & Apple
Address: Emporio village Santorini
Phone: 2286082809
Mobile:
Fax: 2286082809
Website: http://www.cycladessmoothies.com
Email: cycladesmoothies@gmail.com